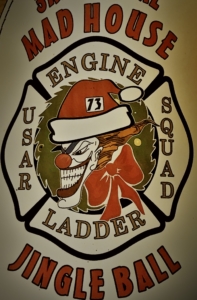 3rd Annual
MADHOUSE
Jingle Ball
Fundraiser
Station 73 would like to invite everyone out for the
3rd Annual MADHOUSE Jingle Ball Fundraiser.
This year, as a joint effort with the Riverside County Professional Firefighters Benevolent Fund (RCPFBF), Temecula Fire Station 73 is hosting our Third Annual Madhouse Jingle Ball. This year golf will begin at 9am with a shotgun start with a putting competition, closest to the pin and with lunch provided. After golf we will have awards and raffles.

In the evening following golf we will have our Jingleball Dinner at Karl Strauss Brewery in Temecula. We will have an evening with raffles, silent auction and our annual Ugly Sweater Competition. All proceeds will be donated to the Toth and Bolowich families from Cal Fire Riverside County. Tickets will be sold and will include dinner and a commemorative pint glass. You will need to purchase a separate ticket for both events.

Hans Bolowich is a Battalion Chief for the Cal Fire Riverside Unit serving the Jurupa Valley Battalion. Hans suffered an on duty medical emergency due to brain cancer and with his current fight we want to support our brother to the best of our ability. Hans has had a positive impact on every person he has come across as well as every city he's worked for, including multiple years of service in the City of Temecula.

Jeff Toth is a Firefighter II/Paramedic currently serving the City of Menifee. Jeff's family was struck with tragedy when his son was diagnosed with Leukemia. Currently Jeff is off duty and tending to his family. With Jeff's years of service and compassion to his community it is now our turn to help him and his family with costs of care, treatment and recovery.

Each year we have successfully helped a fire family in need. As this is our third year we want to make this our most successful yet. Please come join us at the Jingleball events this year to help us continue our success in helping our brothers and their families during time of need.

The Station 73 family appreciates all contributions as we begin our third journey in our annual fundraising efforts. We invite everyone to join us for a great day of golf and entertainment. All donations made are tax deductible, under IRS 501(c)3 tax laws. A receipt will be provided to you after we receive your donation. All donations are used to assist our members or provide a charitable venture our Association approves.
*All sponsorship logos and advertisements must be submitted and approved
by November 1, 2019.*
For more information or for sponsorship please contact Kyle.
[email protected] or 760-687-6312
Event Contact & Madhouse Jingle Ball Tickets 
**Last Day to Purchase Tickets is November 1, 2019!!!!*
Madhouse Jingle Ball Golf

REDHAWK GOLF COURSE
45190 Redhawk Pkwy
Temecula, CA 92592
November 15, 2019

event information:

Contact us [email protected]
Madhouse Jingle Ball

Sponsor Information

Madhouse Jingle Ball

Dinner Ticket

Karl Strauss Brewery
40868 Winchester Rd,

Temecula, CA 92591

November 15, 2019 @5pm
**Last Day to Purchase Tickets is November 1, 2019!!!!!**
Silent Auction
Raffle Prizes