In memory of Yaroslav Katkov  https://northcoastchurch.com/calfire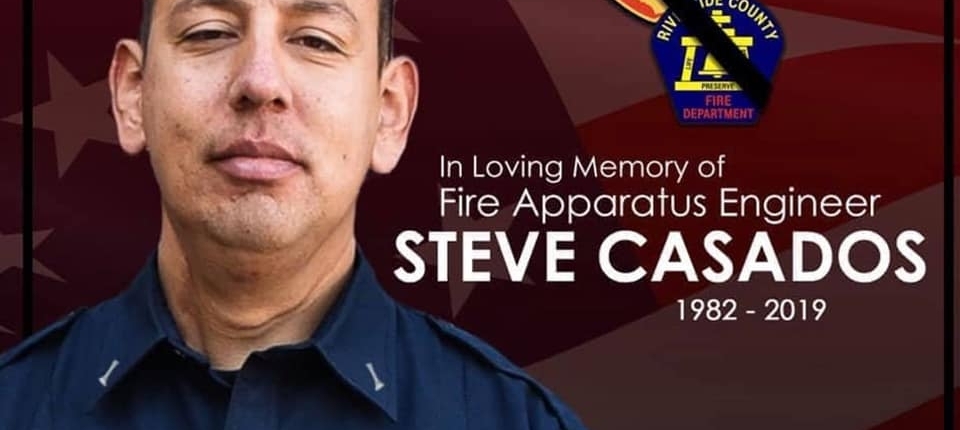 Steve worked in the Riverside Unit as a FFI, FFII and an FAE. Steve worked in Battalions 11,01,02,10 as a Firefighter II and Battalion 6 and 3 as a Fire Apparatus Engineer. Steve is survived by his wife Veronica and their two children. Most of you know that Steve had been battling cancer and associated diseases for years. The most recent complication forced him to retire in October of 2018. Steve loved being in the fire service. We will miss him.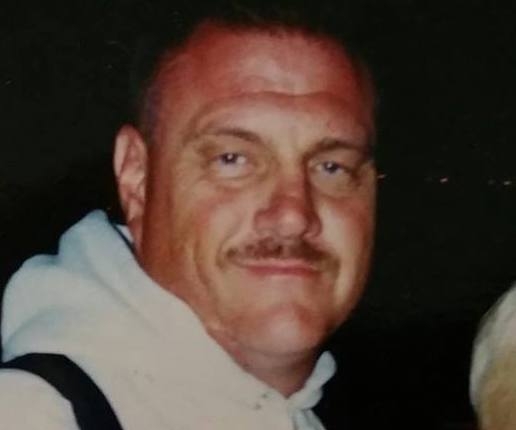 Clifford Milton Boyd, Jr. was born in Loma Linda, California on August 25, 1960 and passed away at home in Menifee, California on February 18, 2019.  He is survived by his loving wife of 20 years Mary Boyd; 5 children Janae (Benjamin), Clifford (Breeann), Jessica (Simon), Amy (Justin), & Sarah; 10 grandchildren  and his dogs Jules & Daisy.
Clifford worked for Cal Fire for 18 years and retired as Fire Captain.  His hobbies included fishing, golfing, welding/ fabrication, wood working,  watching NASCAR, and spending time with his family and dogs. His great sense of humor, generous heart, and strong-willed spirit will be missed by all who knew him.
A celebration of Life service will be held on Saturday March 9, 2019 at 1:00pm at The Church of Jesus Christ of Latter-Day Saints located at 28150 La Piedra Road, Menifee, CA  92584. Reception to follow. In lieu of flowers the family is requesting donations to be sent to Cal Fire Benevolent Foundation.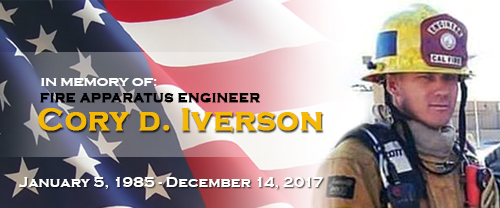 Engineer Cory David Iverson died in the line of duty on December 14, 2017, honorably defending the town of Fillmore from the devastating Thomas fire. He was the beloved husband and best friend of Ashley Iverson and the devoted father of daughter Evie and soon-to-be daughter Taylor. A devoted CAL FIRE firefighter since 2009, he had recently promoted to a Fire Apparatus Engineer in CAL FIRE's San Diego Unit. Prior to his promotion, Cory worked at Hemet Ryan Airbase in Riverside County as a helitack firefighter in the Department's aerial firefighting program. Cory is described as a wonderful family man and very dedicated to his job.
The loss of Cory will forever leave a hole in the heart of everyone he touched. He was a loving husband, father, brother, mentor, and to all, he was a friend.   read more
A Highway Memorial dedication ceremony is scheduled for March 16th 2019 on Saturday from 10-12 in Escondido.
Governor Brown Issues Statement on Death of CAL FIRE Engineer
Published: 
SACRAMENTO – Governor Edmund G. Brown Jr. today issued the following statement regarding the death of California Department of Forestry and Fire Protection (CAL FIRE) Engineer Cory Iverson:
"Anne and I are saddened by Engineer Cory Iverson's tragic death. His bravery and years of committed service to the people of California will never be forgotten."
Engineer Iverson, 32, of Escondido, died today while fighting the 242,500-acre Thomas Fire near Fillmore in Ventura County. Engineer Iverson was an 8-year veteran of CAL FIRE.
He is survived by his wife, Ashley, who is pregnant, and their two-year-old daughter, Evie; mother, Denise Butler; stepfather, Scott Butler; and father, Craig Iverson.
In honor of Engineer Iverson, Capitol flags will be flown at half-staff.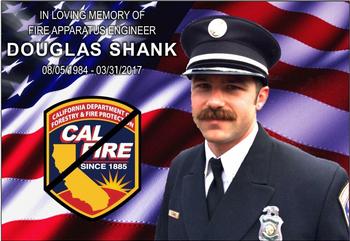 Douglas Brian Shank passed away unexpectedly on March 31, 2017, at his home in Creston, Calif., at the age of 32.He graduated from Atascadero High School in 2002, Long Beach City College with a degree in Fire Science in 2007, and Alan Hancock Fire Academy in 2007 as Valedictorian. Douglas married the love of his life, Elizabeth Shank, March 29, 2014. Douglas' entire working career was dedicated to fire service. After moving to his dream home in Creston, Calif., Douglas continued to work with the Cal Fire Riverside unit. Douglas is remembered by his loved ones as a handsome, dedicated, and loving husband with a wonderful sense of humor. Douglas was an accomplished fire apparatus engineer and passionate about serving others.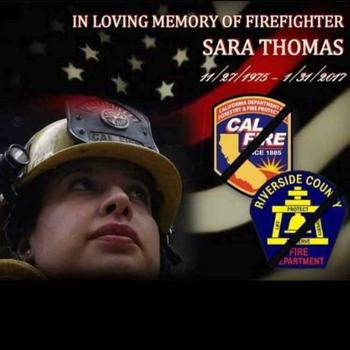 Sara Thomas, a 41-year-old CAL FIRE Firefighter passed away January 31, 2017. She passed away at her Desert Hot Springs home surrounded by her loving family. Her husband Isaac, twin's daughters Olivia and Mirna were with her when she passed. She dealt with a long and courageous battle against cancer. Sara was an amazing warrior, she fought to the very end. She is survived by her husband, daughters and will dearly be missed by her family and friends.
Sara Thomas has been a firefighter with CAL FIRE for 16 years. Sara started her career as a seasonal Firefighter 1 in the CAL FIRE Monte Vista Unit on May 15, 2000.  Then in June 2002, she transferred to the San Benito-Monterey Unit until July 2004 when she then transferred to the Riverside Unit as a limited term Firefighter II. Between 2004 and 2007, Sara worked in both San Benito-Monterey and Riverside Units. In April 2008, she accepted a permanent Firefighter II position with the Riverside Unit. Sara spent most of her career serving the citizens of the Coachella Valley in Riverside County until her passing. Her last assignment was at Fire Station 80, North Indio.  read more