Riverside County

Professional Firefighters


Benevolent Fund
In Support of our fellow CALFIRE L2881 Members
In Memory of our Riverside County Professional Firefighters that have passed away in the Line of Duty serving the citizens of Riverside County and the State of California.
In Memory of Mark Roedel (CAL FIRE), December 30, 2020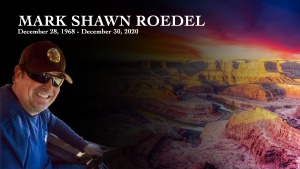 The passing of retired Fire Captain Mark Roedel, CAL FIRE/Riverside County Fire Department after a heroic battle with cancer.  Captain Roedel started his career in the Riverside Unit in 1999 as a Firefighter Paramedic and promoted through the ranks to Fire Captain.  He worked in the conservation camps and most notably Lake Mathews Station 4. Captain Roedel served the department for 18 years and retired in 2018 as a result of his job related cancer.  Captain Rodel is survived by his wife Lisa and two daughters Abbygail and Sydney.
In Memory of Hans Bolowich (CAL FIRE), May 25, 2020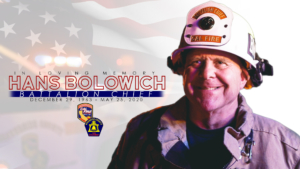 It is with profound sadness that I inform our CAL FIRE/Riverside County Fire Department Family and partnering agencies that Battalion Chief, Hans Bolowich passed away peacefully with his family by his side on Monday, May 25, 2020 after a heroic battle with cancer.
Hans was born on December 29, 1963. Some of his favorite hobbies included fly fishing, football, skiing and wakeboarding. Hans played football for San Bernardino Valley College and later coached for Yucaipa High School.
Hans' career in the fire service began in 1982 where he was a volunteer firefighter at Riverside County Fire Department Station 22 in Cherry Valley for five years. In 1985, Hans went to paramedic school and later worked for AMR (formerly Goodhew) Ambulance.
In 2002, Hans was hired by CAL FIRE as a Firefighter Paramedic on Squad 84 in Temecula and further promoted through the ranks as Fire Apparatus Engineer Paramedic and later a Fire Captain Paramedic before his Schedule B assignment at Anza Station 29. Finally, Hans promoted to Battalion Chief in 2019 where he was assigned to Battalion 14.
Since 2005, Hans was an instructor at Moreno Valley College teaching pharmacology to paramedic students until his illness.
Hans held a Bachelor's Degree in Biology from Cal State San Bernardino. He is survived by his wife, Carla Bolowich, brothers Konrad and Franz Bolowich and sister Heidi Jackson.
We will deeply miss Hans and will be here to support Carla and his family during this very difficult time. Information regarding Hans' celebration of life will be forthcoming.
The Bolowich family would love to have any photos you have of Hans during the course of his career. Photos can be uploaded to:
[email protected]
The Riverside Community College Foundation has established a scholarship in Battalion Chief Hans Bolowich name.  To donate got to:  www.rccdfoundation.org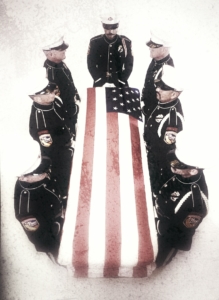 Battalion Chief Hans Bolowich Last Call – In Loving Memory
Battalion Chief Hans Bolowich Video Montage
Battalion Chief Hans Bolowich Celebration of Life: June 2, 2020
In Memory of Yaroslav Katkov (CAL FIRE), July 29, 2019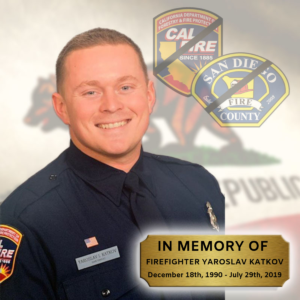 CAL FIRE Firefighter I, Yaroslav Igorevich Katkov, passed away on July 29, 2019 after suffering a medical emergency while on duty during a training exercise with his engine company.
Brother Katkov began his career in the fire service as a San Diego County Reserve Firefighter assigned to Fire Station #79 on Palomar Mountain. In August of 2018, he was hired by CAL FIRE San Diego and assigned to Fire Station #16 in the community of De Luz.
Firefighter Katkov was a dedicated, professional firefighter who came to the United States from Ukraine with his family as a child, learned English, graduated college, and achieved his dream of becoming a firefighter. He is survived by his father Igor, mother Nadia, brother Sam, and girlfriend Ashley, as well as his fire department family.
Firefighter  Yaroslav Katkov – In Loving Memory
In Memory of Fire Apparatus Engineer Steve Casados (CAL FIRE), February 28, 2019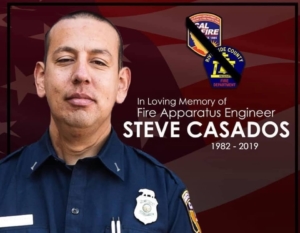 Steven "Steve" Casados began volunteering for CAL FIRE in 2000 and rose through the ranks becoming a permeant  Firefighter I & II reaching the rank of Fire Apparatus Engineer.  During a career that spanned more than a decade, working in Battalions 1, 2, 3, 6, 10 & 11. Steve took great pride in helping others. He thrived on the camaraderie at the fire station and his positive energy and humor filled the station. He loved spending time with his family. Steve's passions included music, sports and exercise.  The most recent complication forced him to retire in October of 2018.  Steve succumbed to the effects of job-related cancer in February of 2019.  Steve is survived by his wife Veronica and their two children. Steve loved being in the fire service. We will miss him.
Fire Apparatus Engineer Steve Casados Final Call – In Loving Memory
Fire Apparatus Engineer Steve Casados Celebration of Life 
In Memory of Fire Captain Clifford Boyd (CAL FIRE), February 18, 2019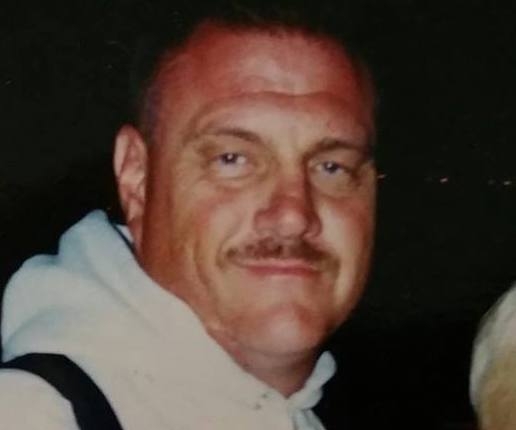 Clifford Milton Boyd, Jr. was born in Loma Linda, California on August 25, 1960 and passed away at home in Menifee, California on February 18, 2019.  He is survived by his loving wife of 20 years Mary Boyd; 5 children Janae (Benjamin), Clifford (Breeann), Jessica (Simon), Amy (Justin), & Sarah; 10 grandchildren  and his dogs Jules & Daisy.
Clifford worked for CAL FIRE for 18 years and retired as Fire Captain.  Clifford also severed his fellow firefighters as a Board Member of CDF Firefighters Local 2881, Riverside Chapter, as a Representative and later the Chapter Director.  His hobbies included fishing, golfing, welding/ fabrication, wood working,  watching NASCAR, and spending time with his family and dogs. His great sense of humor, generous heart, and strong-willed spirit will be missed by all who knew him.

In Memory of Firefighter Jason Pollard (CAL FIRE), August 28, 2018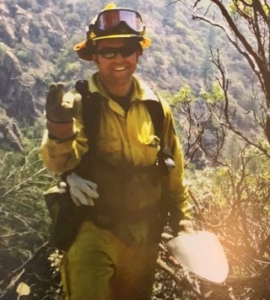 Jason Pollard's firefighting roots began with his father Sam, who served in CAL FIRE's San Diego Unit. Jason began his own CAL FIRE career as a seasonal firefighter in San Diego. He was hired full time in 2003, serving more than a decade in the Riverside Unit with honor and distinction. Outside of his work, he enjoyed spending time with his family. In August 2018, Jason succumbed to the effects of job-related cancer.
In Memory of Fire Apparatus Engineer Cory Iverson (CAL FIRE), December 14, 2017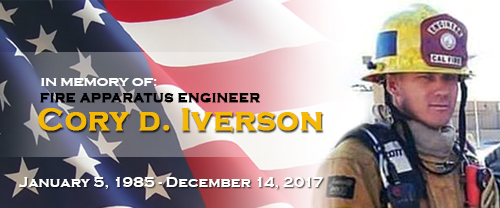 Engineer Cory David Iverson died in the line of duty on December 14, 2017, honorably defending the town of Fillmore from the devastating Thomas fire. He was the beloved husband and best friend of Ashley Iverson and the devoted father of daughter Evie and soon-to-be daughter Taylor. A devoted CAL FIRE firefighter since 2009, he had recently promoted to a Fire Apparatus Engineer in CAL FIRE's San Diego Unit. Prior to his promotion, Cory worked at Hemet Ryan Airbase Base in Riverside County as a helitack firefighter in the Department's aerial firefighting program. Cory is described as a wonderful family man and very dedicated to his job.
The loss of Cory will forever leave a hole in the heart of everyone he touched. He was a loving husband, father, brother, mentor, and to all, he was a friend.   read more
A Highway Memorial dedication ceremony is scheduled for March 16th 2019 on Saturday from 10-12 in Escondido.
Governor Brown Issues Statement on Death of CAL FIRE Engineer
Published: 
SACRAMENTO – Governor Edmund G. Brown Jr. today issued the following statement regarding the death of California Department of Forestry and Fire Protection (CAL FIRE) Engineer Cory Iverson:
"Anne and I are saddened by Engineer Cory Iverson's tragic death. His bravery and years of committed service to the people of California will never be forgotten."
Engineer Iverson, 32, of Escondido, died today while fighting the 242,500-acre Thomas Fire near Fillmore in Ventura County. Engineer Iverson was an 8-year veteran of CAL FIRE.
He is survived by his wife, Ashley, who is pregnant, and their two-year-old daughter, Evie; mother, Denise Butler; stepfather, Scott Butler; and father, Craig Iverson.
In honor of Engineer Iverson, Capitol flags will be flown at half-staff.
In Memory of Fire Apparatus Engineer Douglas Shank (CAL FIRE), March 31, 2017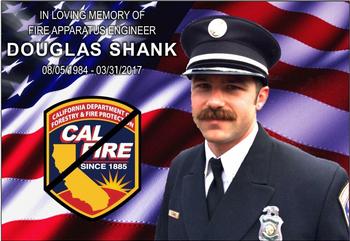 Douglas Brian Shank passed away unexpectedly on March 31, 2017, at his home in Creston, Calif., at the age of 32. He graduated from Atascadero High School in 2002, Long Beach City College with a degree in Fire Science in 2007, and Alan Hancock Fire Academy in 2007 as Valedictorian. Douglas married the love of his life, Elizabeth Shank, March 29, 2014. Douglas' entire working career was dedicated to fire service. After moving to his dream home in Creston, Calif., Douglas continued to work with the CAL FIRE Riverside unit. Douglas is remembered by his loved ones as a handsome, dedicated, and loving husband with a wonderful sense of humor. Douglas was an accomplished fire apparatus engineer and passionate about serving others.
In Memory of Battalion Chief Robert Wolf (CAL FIRE), March 2, 2017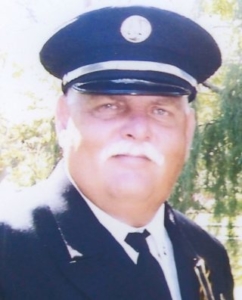 Bob began his career with CAL FIRE as a seasonal firefighter, working his way to become a Battalion Chief. Bob was also a passionate and forceful advocate for his brothers and sisters, serving for a decade as president of CAL FIRE, Local 2881 and as 6th District Vice President for California Professional Firefighters. Outside of work he loved spending time with his family, coaching baseball and riding his motorcycle. Bob succumbed to a job-related illness in March of 2017.
In Memory of Firefighter Sara Thomas (CAL FIRE), January 31, 2017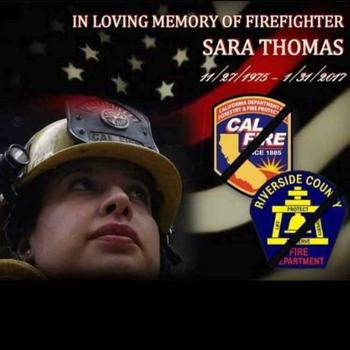 Sara Thomas, a 41-year-old CAL FIRE Firefighter passed away January 31, 2017. She passed away at her Desert Hot Springs home surrounded by her loving family. Her husband Isaac, twin daughters Olivia and Mirna were with her when she passed. She dealt with a long and courageous battle against cancer. Sara was an amazing warrior, she fought to the very end. She is survived by her husband, daughters and will dearly be missed by her family and friends.
Sara Thomas has been a firefighter with CAL FIRE for 16 years. Sara started her career as a seasonal Firefighter 1 in the CAL FIRE Monte Vista Unit on May 15, 2000.  Then in June 2002, she transferred to the San Benito-Monterey Unit until July 2004 when she then transferred to the Riverside Unit as a limited term Firefighter II. Between 2004 and 2007, Sara worked in both San Benito-Monterey and Riverside Units. In April 2008, she accepted a permanent Firefighter II position with the Riverside Unit. Sara spent most of her career serving the citizens of the Coachella Valley in Riverside County until her passing. Her last assignment was at Fire Station 80, North Indio.  read more
In Memory of Firefighter Barry Rezac (CAL FIRE), September 27, 2015
B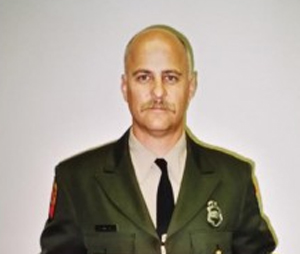 arry Andrew Rezac was born in Little Rock, Arkansas but relocated to Riverside, California early in life. After graduating from high school, Barry joined the Rubidoux Community Services District Fire Department, which would become part of the CAL FIRE Riverside County Fire Department roughly a decade later. Outside of the fire house, Barry was an avid horseman. He is survived by his wife, Sandra, his mother, Sydney, his children, Joshua, Jennifer and Rachel, his sister, Gina and his brother, Allan. Barry died in 2015 after suffering a job-related heart attack.
In Memory of Fire Apparatus Engineer Paramedic Christopher Douglas (CAL FIRE), July 5, 2013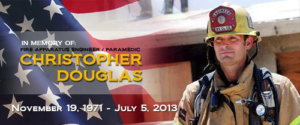 Christopher Douglas, affectionately known as "Topher," was born on November 19, 1971. After five years of volunteer, reserve and paramedic service, he began working with CAL FIRE in 2004 and promoted to apparatus engineer/ paramedic in July of 2012. At graduation, he received the Carpe Diem Award – an honor bestowed by his peers. Topher valued his life-long friendships and other passions such as surfing, playing guitar, cooking, working on cars, traveling and spending time with family. While responding to a traffic accident, Topher was struck by a truck as it passed his stopped engine. His wife is expecting their second child in early 2014.
In Memory of Fire Apparatus Engineer David Lezchuk (CAL FIRE), May 11, 2011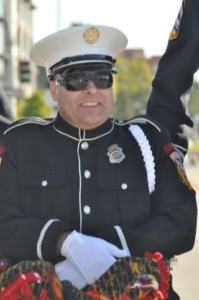 To those that knew him best, David Garrett Lezchuk will be remembered as a loving and devoted son, husband, brother and father. To the many lives he touched during his career as a firefighter, he will be remembered as a hero. David began his career with CAL FIRE by graduating at the top of his academy class. He would continue on this path of excellence over the course of his career, qualifying as an expert in cliff rescue and becoming a member of the department's helicopter engine unit. David died in 2011 following a battle with job-related cancer.
In Memory of Fire Captain David Parks, Jr. (CAL FIRE), February 5, 2010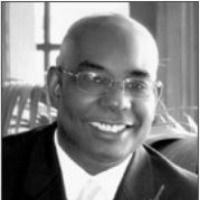 David Parks was known for his contagious smile that would light up the room and his love and passion for being a fire fighter. He loved his job and lived for it. His career began at Riverside City. In 1981, Parks took a position as a Fire Apparatus Engineer with CDF and was promoted through the ranks to fire captain. He finished his career as captain at the Emergency Command Center in Perris. He passed away from job-related lung cancer at 54.
In Memory of Chief Bryan Zollner (CAL FIRE), April 12, 2007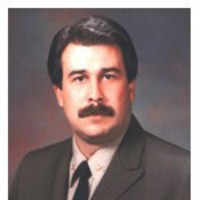 Like so many of his brothers and sisters, Bryan Zollner came from a firefighting family. His grandfather was a Detroit firefighter, while his father served as chief of the Oroville Fire Department. Bryan carried the tradition forward nobly, serving a variety of functions within what was then the California Department of Forestry and Fire Protection. In 1998, Bryan's devotion to duty was recognized with a Medal of Valor when he broke through the back window of a home and, without breathing apparatus, rescued a small child from a burning home. Bryan Zollner's service was cut tragically short by an on-duty vehicle accident.
In Memory of Firefighter Chris Kanton (CAL FIRE), August 6, 2005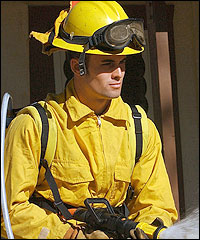 CAL FIRE Firefighter II Chris Kanton died in the line of duty on Saturday' August 6' 2005' in Riverside County' CA. He was responding to a call for assistance when his engine was involved in a tragic accident. Chris was exactly where he wanted to be: in a fire engine' with his colleagues' going to help people who needed him. While in high school' Chris started as a paid call firefighter at Station 33 at Heritage Ranch in Paso Robles. After graduating from high school in 2000' Chris attended and graduated from the Allan Hancock Fire Academy in Santa Maria and subsequently completed three years as a seasonal firefighter in Riverside County. He completed HAZMAT training and served on the HAZMAT team at station 81 near Palm Springs and other locations as a full-time firefighter. Recently' Chris was transferred to Station 58 in Moreno Valley' where he served as a Firefighter II. Chris' love and passion for firefighting is exemplified by the numerous certifications he achieved throughout his career.
Chris had an interest in photography and served as the yearbook photographer and editor in high school. His greatest love was extreme sports. Chris was an avid wakeboard' snowboard and motorcycle enthusiast. When he was not on duty with CDF' he worked for the Ski Patrol at Big Bear and rode his dirt bikes in the summer. Chris learned to play hockey (he was a goalie) at an early age and played in several leagues' including the high school league in Paso Robles. For the past four years he played hockey in the Firefighter Olympics for both L.A. and Riverside Counties.
Chris was a giving person. A fellow firefighter recalls the time he was going off duty and needed a civilian shirt: 'Chris had a shirt in his truck and offered it to me' but it was too small. Chris took off the shirt he was wearing' a size larger' and handed it to me. He literally gave me the shirt off his back.' Helping others' regardless of their need' was an integral part of his personality. All who knew Chris learned many lessons from his life. By taking these lessons to heart' Chris will live forever within us' and his life will continue to have meaning to each of us.
He had another side too. He was fun to be with and could bring a smile to your face' if not outright laughter' in even the most difficult of times. Words cannot express the joy that Chris brought to all of those that he touched. Chris was a loving son' husband' and brother. He was our friend. We will miss him.
Chris is a recipient of the Medal of Valor.
In Memory of Fire Apparatus Engineer Robert J. Martines (CDF), August 29, 2000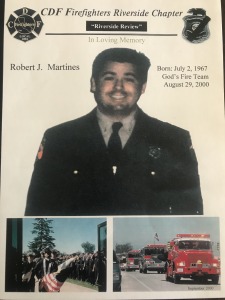 On Duty – vehicle accident
In Memory of Firefighter Paramedic John L. Perrault (CDF), December 26, 1999
Job Related Cancer.
In Memory of Firefighter Kenneth Schmutz (CDF), June 22, 1996
On Duty – vehicle accident
In Memory of Pilot Robert L Buc, Co-Pilot Joe Johnson, Flight Engineer Shawn Zaremba (contract to CDF),  August 13, 1994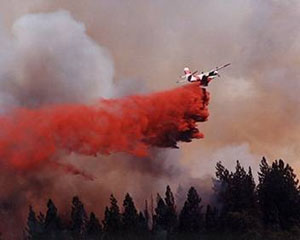 On August 13, 1994, Tanker 82, a C-130 air tanker based at Ryan Air Attack Base at the request of CDF was headed to dump retardant in fires in Kern County near the Tehachapi Mountains, CA. It crashed in a remote area on the Angeles National Forest. Bob Buc, Joe Johnson, and Shawn Zaremba, the flight crew from the Hemet Valley Flying Service, were killed in the crash.  This crash was investigated again following the structural failures of Tanker 123 and Tanker 130 in 2002. These led the US Forest Service on May 10, 2004 to abruptly terminate the contracts for the entire large tanker fleet.
In Memory of Gary Nagel (CDF), October 5, 1998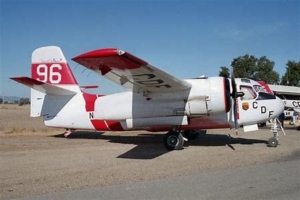 Airtanker Pilot Gary Nagel was killed in the crash of a Grumman TS-2A airtanker (Tanker 96) when he encountered turbulent air (Santa Ana winds), misjudged his maneuvering altitude and impacted the terrain. He had made two drops on the Mount Edna brush fire near Banning, California and was preparing to make a third. Other factors that contributed to the crash were the mountainous terrain, tailwind conditions, and turbulence in the area.
In Memory of Kenneth Earl Enslow (CDF),  August 14, 1990
Kenneth Enslow was a first year Firefighter I with CDF. He was employed at the Home Gardens Schedule A Station in Riverside County and was part of an engine crew dispatched to fight the Recer Fire. CDF Firefighter Enslow was killed by a falling snag on the Recer Fire which burned on the Mendocino NF. It was his first wildland timber fire and he may not have had the experience to recognize or appreciate the danger from falling trees despite being warned. He was wearing his hardhat. He was struck on August 13 and died the next morning, August 14, 1990 in a Chico hospital.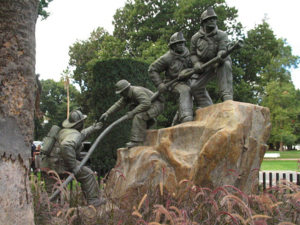 Firefighter Kenneth Enslow was also memorialized in the California Fire Foundation Memorial at the State Capital in Sacramento.
The California Firefighters Memorial is a unique and stunning tribute to more than 1,400 firefighters who have died in the line of duty since California became a state in 1850. The Memorial is located in Capitol Park, the grounds adjacent to the State Capitol in Sacramento. Capitol Park is a state and national landmark. Read More
In Memory of Firefighter Scott Karnitz (CDF), January 1, 1982
Firefighter Scott Karnitz was hit by a vehicle while on scene of traffic accident on Hwy 60 near Beaumont, CA
In Memory of Pilot Richard Mervin Ray (CDF) & Pilot Dennis Conner (CDF), June 8, 1979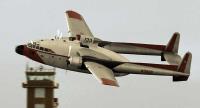 On June 8, 1979, Pilot Denny Connor and Co-pilot Dick Ray were killed when the right wing of their  C-119 airtanker separated during a retardant drop and plunged to earth in Millard Canyon. They were making a drop over the Ciervo brush fire (near Banning CA) on the Morongo Indian Reservation.
In Memory of Pilot Robert J Morrison (CDF),  July 20, 1968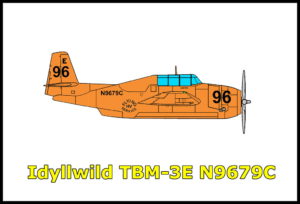 N9679C / #E96 / 69293 "On July 20, 1968 the TBM-3E borate bomber Tanker 96 flown by 29 year old Robert Morrison was working on a hundred acre fire in the San Jacinto Mountains near the town of Idyllwild, California. While making a low pass up the smoke filled south fork of the San Jacinto River canyon to drop the load of borate, the converted Navy bomber crashed killing the pilot. The airtanker, the General Motors TBM-3E Avenger N9679C formally BuNo 69293 was owned by Hemet Valley Flying Service." See the pictures of the wreck HERE (Joe Idoni). Watch a 21 minute Youtube video of a detailed visit to the crash site in 2011 HERE
In Memory of Firefighter Melvon L. Miller (CDF) , August 17 1965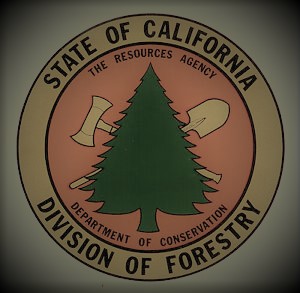 On August 17, 1965, CDF Firefighter Melvon Miller died while fighting the Kyle Fire on the Riverside Ranger Unit. According to the Desert Sun (a local paper) news article, he died of a heart attack at the scene of a structure fire in Indio. CDF (now CALFIRE) was the contracting agency for local fire protection, so he was a full-time CDF employee working at a county-funded fire station. The fact that there's a record in the National Wildfire Coordinating Group (NWCG) records indicates that the Kyle Fire was a wildland fire. He might have been structure protection or a structure fire may have progressed to the wildland. (It is unlikely he was fighting only a structure fire.) NWCG records from that time often did not include cause of death or remarks.
In Memory of Pilot Arthur Deall (CDF),  June 22, 1961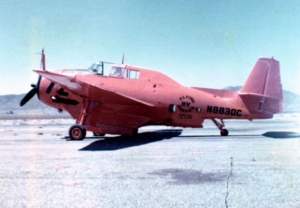 Tanker #69 [was] N5169V Bu53825 crashed June 22, 1961 during suppression action on a fire on Billy Goat Mtn. near Aguanga in Riverside County California… Pilot Arthur Deall was killed in the crash
In Memory of Firefighter John D. Guthrie (CDF),  Firefighter Nelson Harlan, Steven Johnson, Boyd Edwards from CNF El Cariso HS & El Cariso Engine, Foreman Andrew Brooks at the San Juan Station and District Ranger Ben Slater, CNF,  August 8 1959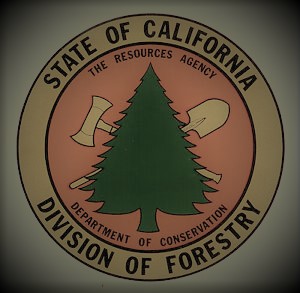 The Decker Fire started on the Ortega Highway, three miles west of Lake Elsinore Village, southeast of Los Angeles, California around l800 hours on August 8, 1959. It was the result of an automobile accident which killed one person and critically burned another. The USFS units from El Cariso Station (three miles up the Ortega Highway) arrived first and began initial attack on the uphill side of the fire. CDF units arrived shortly after, beginning their attack on the lower portion of the fire. This fire occurred in 1959, well before fire-resistant clothing and fire shelters were mandatory. None of the firefighters involved in this accident were equipped with either fire-resistant clothing or fire shelters. The tragedy occurred shortly after sundown, at the time of the breakdown in downslope winds. Several large fire whirls developed, creating exceedingly hot and fast fire runs towards the highway where crews were working. Some firefighters were able to escape down the highway unharmed, dozens of others were burned, including 7 with severe injuries. Eventually 6 people lost their lives.
The last one to die more than a month later on September 14, 1959 at the Redlands Hospital was John Guthrie. He was burned over more than 85% of his body. Firefighter John Guthrie was posthumously awarded the Governor's Medal of Valor for his actions on this incident.
In Memory of Pilot Donald M. Doughty (CDF), July 5 1959
N983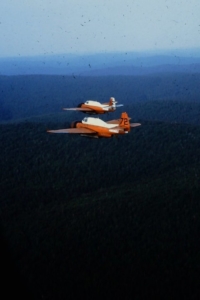 0C / #E72 / 53540 / Hemet Valley FS / Crashed on 5 July 1959 near Redlands, CA. Pilot was Donald M. Doughty, age 40, who was presumably killed. This Grumman TBM-3E departed from Hemet-Ryan Airport on a fire fighting mission. The 12-minute 2014 YouTube video HERE mis-dentifies this TBM as #69; in fact it is #72, the first of two of that number. [did not fly in New Brunswick]
In Memory of Firefighter Larry Higgins (CDF), August 18 1952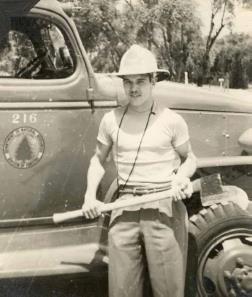 On August 19, 1952 Larry Higgins, a California Department of Forestry first year firefighter was fighting a fire near the Cleveland National Forest south of Lake Elsinore. He had been laying hose through the brush along the fireline. Carrying the nozzle end of the hose, he advanced toward the fire, calling for more hose. A whirlwind sprang up and whipped the fire around him, cutting him off from two other firefighters who were helping lay the hose. He was engulfed by flames and perished. They survived.
In Memory of Firefighter Donald M. Brown (CDF), November 12, 1947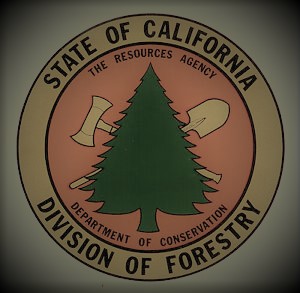 Vehicle accident involving fire engine in Perris, C